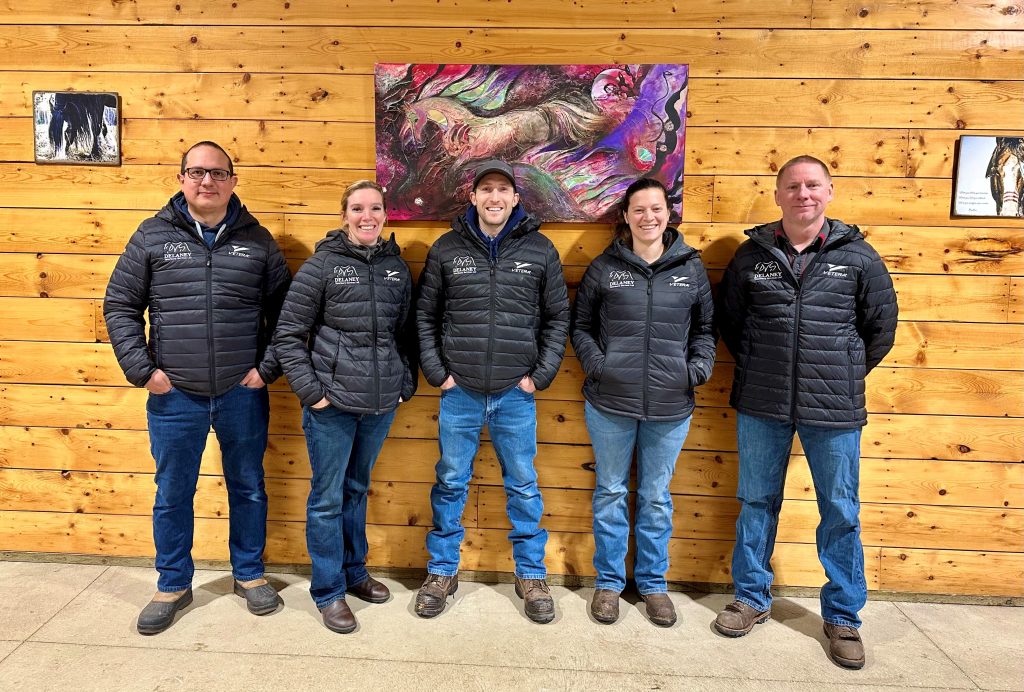 Please click on the staff member's name to expand their section and learn more about them!
Dr. Lana Delaney, DVM
Lana grew up on a farm just outside of Grande Prairie, Alberta.  Her family has always been active in thoroughbred horse racing.  She graduated from the Western College of Veterinary Medicine (WCVM) at the University of Saskatchewan in 2005 and stayed on one more year to complete a Large Animal Surgery Internship.  Lana started Delaney Veterinary Services in 2008 where she enjoys her equine patients, large and small, practicing with an emphasis on acupuncture, performance, dentistry, and reproduction. Dr. Delaney has recently been certified as a Spinal Manipulator to add to her variety of treatment options.
Dr. Ryan Shoemaker, MVetSc., Diplomate ACVS (Surgery)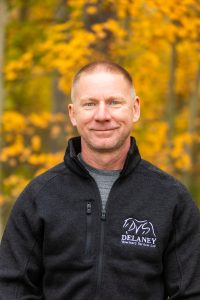 Ryan is one of the surgical and lameness specialist at Delaney Veterinary Services.  He brings over a decade of surgical expertise to the practice.  Following  Veterinary school (WCVM), he continued his specialist training (Surgery and Lameness) at both Kansas University and the University of Saskatchewan.  He obtained specialty recognition by the American College of Veterinary Surgeons in 2005.  After teaching surgery and lameness at the WCVM for 2 years, he moved to private practice in Alberta. 
Dr. Andres Sanchez, DVM, MS, MSc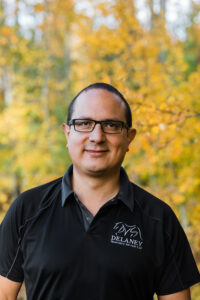 Dr. Andres Sanchez is originally from Ecuador and has practiced in Alberta since 2015. He completed his surgical residency at the Western College of Veterinary Medicine in Saskatoon in 2015 and his veterinary degree at the National University of Central Buenos Aires in Argentina in 2009. His vast experience also includes an internship at the University of Pretoria in South Africa, working in renamed thoroughbred breeding farms in Argentina, private general practice in his hometown, and several externships in California, Texas and Tennessee. He enjoys lameness exams and performing a broad variety of procedures from basic soft tissue surgeries as cryptorchidectomies, hernioplasties and upper airway surgeries, to more complex procedures as abdominal surgery on the colicky horse and orthopedic surgeries like arthroscopy, pastern arthrodesis and fracture repairs. Dr. Sanchez has researched on joint infections and synovial biomarkers as well as presented in renamed international conferences.
You can find more information about his work on the following links:
http://www.thehorse.com/articles/31575/evaluating-joint-infections-using-saa-levels-aaep-2012
http://tehrf.ca/2014/11/26/wcvm-team-researches-septic-arthritis/
http://words.usask.ca/wcvm/2015/08/owner-helps-jack-get-back-on-track/
Dr. Nakiska Van Bergen, DVM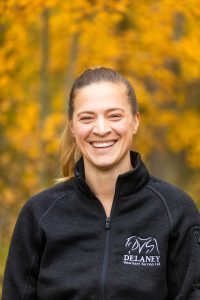 Born and raised in Belgium, I've always had a variety of animals (cats, horses, dogs, guinea pigs, rabbits, chickens,…) in my life. I started riding horses when I was 8 years old, starting with trail riding and from there moving on to Western Pleasure and some barrelracing. From there the love for animals grew and the dream to become a veterinarian followed.
I graduated from Ghent University in 2019. During vet school I did various externships in Belgium, Canada and the USA. Originally from Belgium, I visited Canada for the first time during my graduating year of vet school when I came to Delaney Veterinary Services for an externship. I immediately knew I wanted to come back for an internship after graduating. My interest mostly lies with General Practice and Reproduction, but I'm still very eager to learn and gain more experience in all areas of veterinary medicine.
When I'm not working I enjoy heading out and discovering more of Edmonton, Alberta and the rest of Canada as well as going bouldering or riding with friends.
Dr. Travis Smyth, DVM, MSC, DACVSLA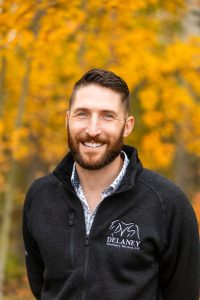 Travis Grew up on a farm outside of Merritt B.C., where his family were active in breeding and training quarter horses for western performance. He graduated from the Western College of Veterinary Medicine (W.C.V.M.) 2012. Following Veterinary school Travis completed a 1 year internship at Idaho Equine Hospital (Nampa, ID, U.S.A.) before returning to the W.C.V.M. to complete a Large Animal Surgical Residency.
Prior to joining Delaney Vet Services, Travis has spent the past four and a half years working as an equine surgeon at the Ballarat Veterinary Practice (BVP), one of the largest and well known equine practices in the southern hemisphere. During his time at BVP Travis has gained a considerable experience working on both thoroughbred and standardbred race horses. Travis' experience focuses mainly on lameness and surgery, including upper airway (tie-backs/ nerve grafts), arthroscopy, and skin grafting procedures.
Veterinary Specialists Available for Consultation
Dr. Kim Hawkes, Cardiology DVM, DACVIM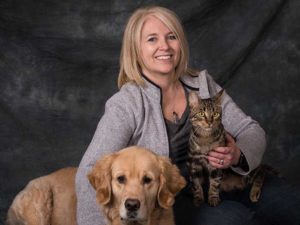 Dr. Kim Hawkes graduated with her DVM from the Western College of Veterinary Medicine at the University of Saskatchewan. After graduation she spent four years in private general and emergency practice in Edmonton. She then went on to complete a small animal rotating surgical and medical internship at the Virginia-Maryland Regional College of Veterinary Medicine at Virginia Tech in Blacksburg, Virginia. Dr. Hawkes then completed a three year cardiology residency at the Ontario Veterinary College, at the University of Guelph. After completion of the residency Dr. Hawkes obtained her cardiology Board Certification from the American College of Veterinary Internal Medicine – Cardiology subspecialty. Dr. Hawkes is looking forward to continuing to build the cardiology service at Guardian. Dr. Hawkes' research has focused on advanced echocardiographic methods of assessing cardiac function. Her areas of special interest include interventional catheterization procedures, advanced echocardiographic assessment of systolic and diastolic function, arrhythmogenic right ventricular cardiomyopathy, and canine dilated cardiomyopathy.
Dr. Hawkes especially enjoys spending her time away from work with her husband, their four children, Golden Retriever, Foster and cat, Emmet.
Dr. Rory Weins, DVM, DABVP (Canine and Feline Practice)
Dr. Wiens completed 3 years of a Bachelor of Science in Genetics before being accepted into the Western College of Veterinary Medicine (Class of 2004). After graduating, he worked at a busy 24-hour emergency hospital in Calgary and then completed an internship in medicine and surgery.
His fascination with ocular surgery and medicine took him to Las Vegas, where he attained an internship in ophthalmology. He grew homesick though, so returned to Alberta in June of 2007 and has lived in St. Albert ever since. He purchased Sturgeon Animal Hospital in March of 2012. Dr. Wiens has a special interest in ophthalmology. Dr. Wiens is very happy to be practicing in the community that he loves and lives with his wife Lorna and two daughters.
Prescription Refill Policy: Please call a minimum of 24 hours ahead for prescription refills or supplement orders. Thank you!