Welcome to Delaney Vet Services!
Excellence in Equine Care
Blending modern advances with time honoured values of compassion, respect, and empathy.
Learn About Us
Learn About TOTALE
Your Full Service Equine Hospital Sherwood Park/Edmonton, Alberta
Welcome to Delaney Veterinary Services
Delaney Veterinary Services is central and northern Alberta's premier equine veterinary facility and the only hospital providing multiple board certified specialists 24 hours a day! It has grown from offering ambulatory services to our equine community to becoming a state-of-the-art, full-service medical, reproductive and surgical referral centre for western Canada. We are dedicated to the well-being of our patients by offering the highest quality, compassionate care while working closely with owners to ensure the best possible outcomes. If you are in a referral situation, you can be assured that our goal is to work seamlessly with your regular veterinarian to provide your horse with the veterinary care it requires. Your horses' health is in good hands at Delaney Veterinary Services as we only examine and treat horses, donkeys and mules!
We are happy to offer a number of resources that enable you to learn about how to take better care of your horses. Please feel free to browse our site or our Facebook page for continued practice happenings and informational articles. If you have any questions, call 780-922-3647 or email us and we'll promptly get back to you. Our Sherwood Park equine clinic is just off the southeast aspect of the City of Edmonton Bypass and very easy to get to — you can find directions on our Contact Us page!
At Delaney Veterinary Services, you and your horse come first!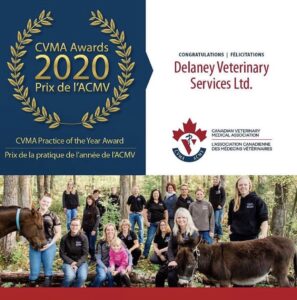 Delaney Veterinary Services has been named 2020 Canadian Veterinary Medical Association Practice of the Year Award!
This is very much an honour for our clinic and staff. "Excellence in Equine Care" is very much our focus, as well as being involved in the community. This is not only an award for DVS, but for all of the clients that allow us to practice the best equine medicine possible. Again, thank you for your support.
Lameness & Pre-Purchase Exams
Surgery & Hospitalization
Office Hours
Monday to Friday: 8:00am to 5:00pm
Saturday and Sunday: Closed
Do you have an emergency? We are available 24/7 for you and your horse. If you need an equine vet after-hours, call (780) 922-3647 immediately.
Please note that we are closed on statutory and recognized holidays*.
* February 15, April 2, May 24, July 1, August 2, September 6, October 11, November 11, December 24, December 25, December 26, December 27, December 31 (after 12pm) & January 3
See For Yourself…
Client Testimonials
Always a great experience. Very helpful and forthcoming with advice.Thank you.
World class equine veterinary services!
Quick, fast, and courteous doctors and staff.
I enthusiastically recommend Delany's Veterinary Services for the care of your equine partner. I f'n love that Dr.Liz got a second opinion on my mare's ultrasound images in the best interest of my horse. I'm very grateful to Dr. Sanchez for the lengthy e-mails and phone calls (on Christmas Eve and New Years eve!) helping me understand the injury, the treatment, the process, every step in detail and answering all of my questions… some multiple times, thank you!! Meeting us at the clinic after hours on a Sunday to do a thorough exam so that if my horse didn't need to stay the night she wouldn't be subjected to any unnecessary stress. 
It's going to be a long recovery and there are no guarantees and I'm thankful and comforted to have such caring, competent professionals on our team.
Prescription Refill Policy: Please call a minimum of 24 hours ahead for prescription refills or supplement orders. Thank you!