Please click on the staff member's name to expand their section and learn more about them!
Shannon Matthews, Practice Manager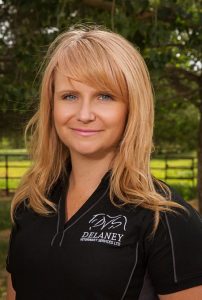 Shannon joined DVS in July 2018 as Practice Manager and grew up in Spruce Grove, Alberta. She has a Bachelors of Commerce and looks after many aspects of the clinic, from Payroll to Human Resources and daily happenings at the practice. Shannon has had a passion for show jumping (both Hunters and Jumpers) since she was 7 years old and intends to not slow down! She has 2 horses: Antares, a retired Grand Prix horse and Oban, a 4 year old prospect, as well as Addy, a 3 year old French Bulldog that keeps her entertained!
Leah Dyck, Reproduction Manager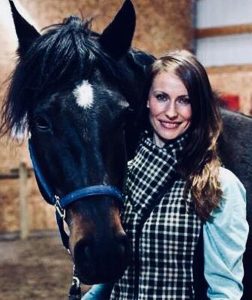 Leah Dyck brings a passion for equine reproduction in addition to wellness for both human and equine. She is co-owner of Stone Clad Farms, a Master level Reiki practitioner, a Certified Equine Assisted Learning Facilitator and is very excited to be joining the DVS team! A lifetime horse person, from a horse family, Leah participated in the jumper arena with hopes to re-enter in the future. Leah has an extra interest in holistic horse care with an integrated veterinary approach and managed a successful warmblood breeding farm from 1996-2009 which produced horses to the Grand Prix level. Since then she has taken some time at home to raise her two daughters and manage her own farm and business with her husband providing a variety of equine facilitated programs and services. She passionately coordinated her own Holsteiner jumper breeding program with a focus on the importance of the motherline and ensuring the inclusion of exceptional mares. Leah and her family currently provide homes to five horses, two dogs, and three cats.Leah's primary goal is to give back. Customer service, client satisfaction, and providing exceptional patient care are of utmost importance. Horses have enhanced her life in a profound way, positive interactions are good for horse and human alike. They create a ripple effect that flows out into the world in a beneficial way.
Raylene Stolk, Client Care Specialist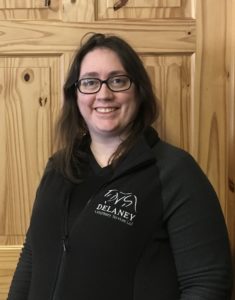 Raylene is an important part of DVS, as she is the first face of the clinic you will see. She brings over 8 years of experience as a receptionist. Her family is comprised of 3 children with multiple talents and striking personalities, which keep Raylene and her hockey fanatic husband on their toes. Included in the family is an autism service dog, one cat, and one horse who's main job is to bask his old bones in the sun. in her spare time Raylene enjoys reading, spending time with her family, and long walks at the dog park.
Sam Thorlakson, Facilities Staff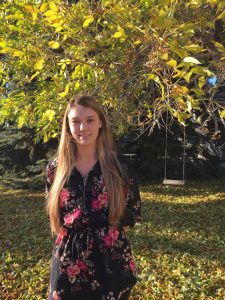 Sam Thorlakson has worked with horses most of her life, and also has a passion for dairy cows and chickens. She is currently completing a BSc in Food Animal Health at the University of Alberta. She hopes to continue her education either by entering a master's degree in animal nutrition or attending Veterinary school. In her free time, Sam enjoys painting, hiking, and riding her 17-year-old Quarter Horse, Cash.
Laura Hynds, Facilities Staff
Theresa Delaney, Care-Giver and Inventory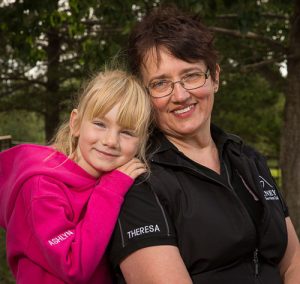 Theresa plays two vital roles at Delaney Veterinary Services. She is in control of our inventory as well as the lead individual in the management of Delaney Veterinary Services youngest team member Ashlyn. In Theresa's spare time (which is sparse considering the demanding nature of child management), she enjoys baking, gardening, reading and spending time with her grandchildren.
Lynsay Atchison, Public Relations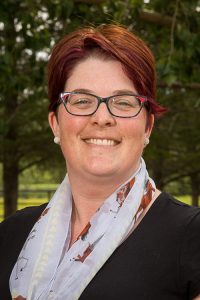 Lynsay is the behind the scenes person for DVS. She works mainly off site on social media, the website, and assists in planning events when she is not teaching elementary full-time. Lynsay and her husband Mark have two daughters: Madison, and newborn Kennedy. They also enjoy their paint horses, making their own hay, and one day hope to have an arena to ride all year round!