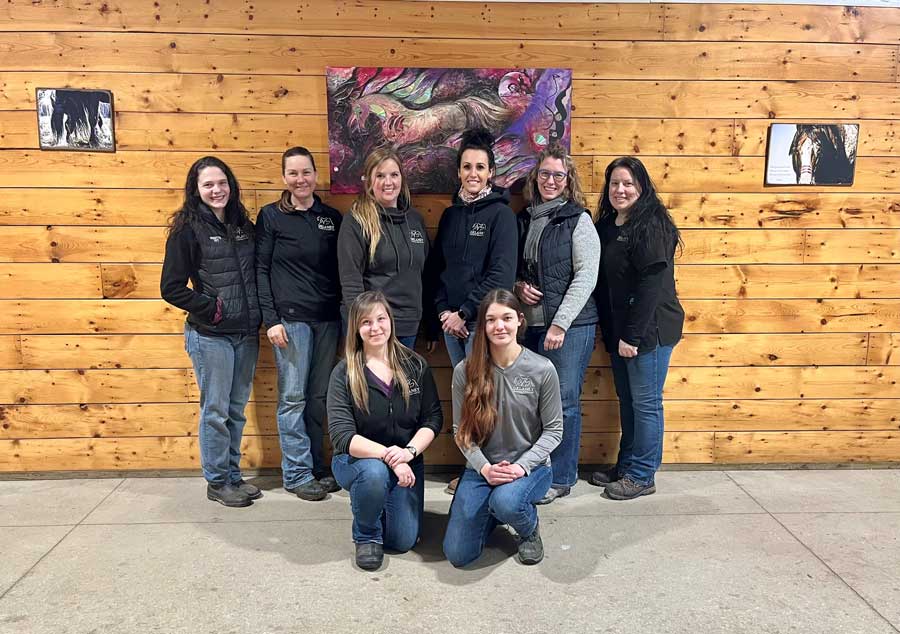 Please click on the staff member's name to expand their section and learn more about them!
Angie Purves, RVT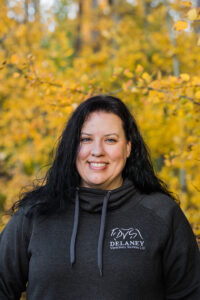 Angie graduated from NAITs Animal Health Technician program in 2017. She has a love for love for Anesthesia/surgery, ambulatory, pretty much all equine medicine! Angie has 4 children, twin boys: Ethan & Braedan, and two girls: Alexandra, and Elizabeth. Angie is involved in 4H with her daughters, enjoys horse shows and gymkhanas, and loves working cattle! Angie has 2 horses: Stormy and Cider, as well as a blue heeler/border collie cross named Kiya. Angie grew up on a ranch in southern Alberta by Waterton National Park and has worked on many ranches and feedlots in the area. Angie also enjoys equine massage and photography when she has down time.
Penny Radostits, EEBW, RVT, CCRP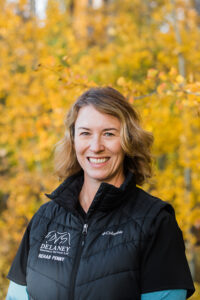 Penny grew up in rural Alberta, where she discovered her love of animals. There was always a dog in the house, and, at age thirteen, she fell in love with her first horse, a young Anglo-Arab weanling named Ari. She went on to work at a busy hunter/jumper barn, learned to ride on a seasoned OTTB, and showed successfully in the hunter ring. Fast forward 30 plus years, and she now has a loving relationship with a 13 year old PRE, (Pura Raza Espanola) mare named Florencia, affectionately know as "Flo". Flo has been Penny's partner in the dressage arena, sorting pen, on the trail, and most recently in Working Equitation.
In 2002, Penny found a way to turn her passion for horses into a career and completed a number of courses in equine therapy and body work, earning her the designation of EEBW, Equinology Equine Body Worker.
Penny's thirst for knowledge prompted her to pursue further education in general animal health. She completed the Animal Health Technology program at NAIT, where she graduated with honours in 2007.
While her goal was to work in an equine practice, Penny discovered that she enjoyed companion animal medicine and quickly found her niche in Animal Rehabilitation. In 2011, she completed the Canine Rehabilitation program through the University of Tennessee and obtained the designation of CCRP (Certified Canine Rehabilitation Practitioner). As one of only a handful of RVT's working in this field, Penny developed a thriving animal rehab practice in Edmonton, Alberta.
Penny is a strong advocate for the quality of life of her patients and finds that animal rehabilitation has contributed to extending the lives of many. She has studied various manual therapy techniques and modalities over the past 18 years and has a special interest in using photobiomodulation (low level laser therapy) to assist with pain management, promote healing, and accelerate return to function. She has worked with many top level canine and equine athletes over the years and loves to help bring out the best in each of them.
Penny is excited to join the DVS team and is working closely with Dr. Jodie Santarossa and the other talented individuals that make up the DVS equine rehab team.
Penny lives in Edmonton with her husband Paul, and their two furry children, Noah, an English Springer Spaniel, and Zoei, a Golden Retriever.
Brigitte Dempsey, RVT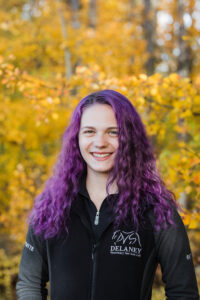 Brigitte is a local francophone who grew up in Edmonton Alberta. She entered her riding phase as a teenager and never left! Brigitte graduated from NAIT's Animal Health Technology program in 2021 with honours. She completed her practicum at DVS and joined the team shortly after! When not at the clinic, you can find Brigitte riding and competing in eventing on her lease horse Guinness. She also enjoys photography and evenings around a fire with friends!
Christie Grant, RVT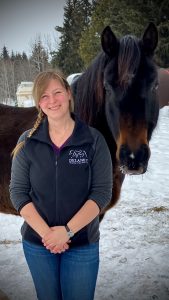 Christie graduated from NAITs AHT program in 2022. She started her horse adventures in 2003 when she joined The Namao Ridge Riders Pony Club. Today, she enjoys endurance, mounted archery, skijoring and trail riding with her four horses Tucker, Roxy, Roman and Demy. Christie's passion is working with large animals, especially horses, but she also enjoys working with small animals as well! She looks forward to continuously expanding her knowledge as a Vet Tech. 
Trena Smith, Vet Assistant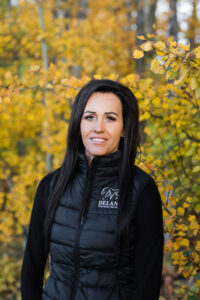 Trena was raised on a mixed grain and cattle operation in Northern Alberta. While growing up in the agriculture world, animals have always been a huge part of her life. 4-H played a big role; while having sheep, cattle, and competing in judging competitions it led her to hold a 4-H ambassador role and have many wonderful travel opportunities. 
Now she focuses her energy into her main guy, Marty as they enjoy barrel racing, while competing in WRA & LRA rodeos, as well and many jackpots throughout the season   
She now has passed on her love for animals to her beautiful daughter, Sloan! As they enjoy competing in barrel racing, pole bending, and enjoy trail rides with friends.  
In Trena's spare time she truly values spending time with her bf shawn, her family, and friends. 
Sherrie Ross, Vet Assistant
Our Reproduction Assistants
Prescription Refill Policy: Please call a minimum of 24 hours ahead for prescription refills or supplement orders. Thank you!